Posts for tag: dentures
By Kenneth J Oskowiak & Associates, DMD, PC
January 11, 2021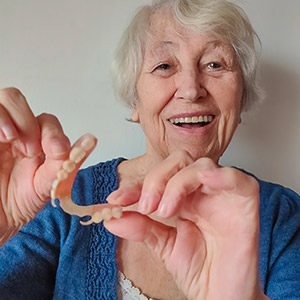 The timing around losing a tooth may not always sync with your financial ability. It's not unusual for people to postpone getting a dental implant—by far the best option for replacing a missing tooth—because of its expense.
So, if you have to postpone dental implants until you can afford them, what do you do in the meantime to keep your smile intact? One affordable option is a temporary restoration known as a flexible removable partial denture (RPD).
Composed of a kind of nylon developed in the 1950s, flexible RPDs are made by first heating the nylon and injecting its softened form into a custom mold. This creates a gum-colored denture base to which prosthetic (false) teeth are affixed at the exact locations for missing teeth.
Differing from a permanent RPD made with rigid acrylic plastic, a nylon-based RPD is flexible and lightweight, making them comfortable to wear. They're kept in place with small nylon extensions that fit into the natural concave spaces of teeth. And, with a bit of custom crafting, they can look quite realistic.
RPDs are helpful in another way, especially if you're waiting for an implant down the road: They help preserve the missing tooth space. Without a prosthetic tooth occupying that space, neighboring teeth can drift in. You might then need orthodontic treatment to move errant teeth to where they should be before obtaining a permanent restoration.
Flexible RPDs may not be as durable as acrylic RPDs, and can be difficult to repair or reline if needed to adjust the fit. Though they may not stain as readily as acrylic dentures, you'll still need to clean them regularly to help them keep looking their best. This also aids in protecting the rest of your mouth from dental disease by removing any buildup of harmful bacterial plaque on the RPD.
But even with these limitations, patients choose RPDs for the simple fact that they're affordable and temporary. And the latter is their greatest benefit—providing you a "bridge" between losing a tooth and replacing it with a durable dental implant.
If you would like more information on tooth replacement options, please contact us or schedule an appointment for a consultation. You can also learn more about this topic by reading the Dear Doctor magazine article "Flexible Partial Dentures."
By Kenneth J Oskowiak & Associates, DMD, PC
May 17, 2017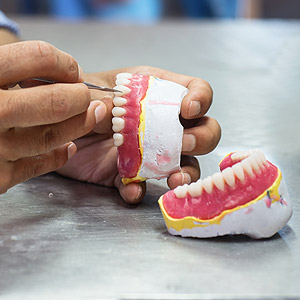 For centuries, people who've lost all their teeth have worn dentures. Although materials in today's dentures are more durable and attractive than those in past generations, the basic design remains the same — prosthetic (false) teeth set in a plastic or resin base made to resemble gum tissue.
If you're thinking of obtaining dentures, don't let their simplicity deceive you:Â a successful outcome depends on a high degree of planning and attention to detail customized to your mouth.
Our first step is to determine the best positioning for the prosthetic teeth. It's not an "eyeball" guess — we make a number of calculations based on the shape and size of your jaws and facial features to determine the best settings within the resin base. These calculations help us answer a few important questions for determining design: how large should the teeth be? How far forward or back from the lip? How much space between the upper and lower teeth when the jaws are at rest?
We also can't forget about the artificial gums created by the base. How much your gums show when you smile depends a lot on how much your upper lip rises. We must adjust the base size to accommodate your upper lip rise so that the most attractive amount of gum shows when you smile. We also want to match as close as possible the color and texture of your natural gum tissues.
There's one other important aspect to manage: how your upper and lower dentures function together when you eat or speak. This means we must also factor your bite into the overall denture design. This may even continue after your dentures arrive: we may still need to adjust them while in your mouth to improve function and comfort.
Ill-fitting, dysfunctional and unattractive dentures can be distressing and embarrassing. But with careful planning and customization, we can help ensure your new dentures are attractive and comfortable to wear now and for years to come.
If you would like more information on removable dentures for teeth replacement, please contact us or schedule an appointment for a consultation. You can also learn more about this topic by reading the Dear Doctor magazine article "Removable Full Dentures."
By Kenneth J Oskowiak & Associates, DMD, PC
January 21, 2016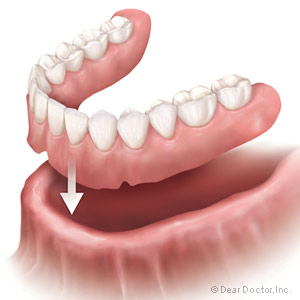 Since as many as 26 percent of older U.S. adults have lost all their teeth, there are a large number Americans who wear full removable dentures, also known as false teeth. You may be one of them.
How much do you know about dentures? See if you can answer the following questions connected with lost teeth and dentures.
Which word refers to the loss of all permanent teeth?

Atrophy
Prosthetic
Edentulism
Periodontal

What is the name given to the bone that surrounds, supports, and connects to your teeth?

Periodontal
Metacarpal
Tibia
Alveolar

What tissue attaches the teeth to the bone that supports your teeth?

Periodontal Ligament
Periodontal Muscle
Parietal Ligament
Achilles Tendon

When a person loses teeth, the stimulus that keeps the underlying bone healthy is also lost, and the bone resorbs or melts away. Pressure transmitted by dentures through the gums to the bone can accentuate this process, which is called

Dystrophy
Atrophy
Hypertrophy
None of the above

A device that replaces a missing body part such as an arm or leg, eye, tooth or teeth is referred to as

Robotic
Imaginary
Exotic
Prosthetic

When teeth have to be extracted, bone loss can be minimized by bone grafting. Bone grafting materials are usually a sterile powdered form of

Allograft (human tissue)
Xenograft (animal tissue)
Both
Neither

Wearers of full dentures must re-learn to manipulate the jaw joints, ligaments, nerves, and muscles to work differently in order to speak, bite, and chew. The name for this system of interconnected body mechanisms, originating with the root words for "mouth" and "jaw," is

Boca biting
Stomatognathic
Periodontal
None of the above

A type of plastic that is artistically formed and colored to make prosthetic teeth and gums look natural is called

methyl methacrylate
beta barbital
rayon
polystyrene

Success in denture wearing depends on

The skill of the dentist
The talent of the laboratory technician
The willing collaboration of the patient
All of the above
Answers: 1c, 2d, 3a, 4b, 5d, 6c, 7b, 8a, 9d. How well did you do? If you have additional questions about full removable dentures, don't hesitate to ask us.
Contact us today to schedule an appointment or to discuss your questions about dentures. You can also learn more by reading the Dear Doctor article, "Removable Full Dentures."